Do you want to know more about your body than your standard blood test you get at the doctors?  The Fix is now offering fast, affordable blood tests that will complement your standard blood tests supervised by our medical staff.  We are offering testing for micronutrients, hormones, and cardio-metabolic.  Special blood tests may be available upon request and availability.
The tests will be done through SpectraCell Laboratories, Inc. which a leading clinical laboratory specializing in personalized disease prevention and management solutions. Their pioneering nutritional and cardio-metabolic testing, driven by state-of-the-art technology assesses a spectrum of risk factors and biomarkers for optimum wellness.
Results will arrive within two weeks and can be sent to your general practitioner.
Save $50 if you do more than one test on the same visit.
MICRONUTRIENT TEST
MICRONUTRIENT TEST provides the most comprehensive nutritional analysis available by measuring functional deficiencies at the cellular level. It is an assessment of how well the body utilizes 31 vitamins, minerals, amino/fatty acids, antioxidants, and metabolites, while conveying the body's need for these micronutrients that enable the body to produce enzymes, hormones, and other substances essential for proper growth, development, and good health. Repletion recommendations are made based on need.
Why use the SpectraCell® MICRONUTRIENT TEST?
What truly makes our test unique is that it measures the functional  level and capability of micronutrients present within white blood cells, where metabolism takes place and where micronutrients do their job—thus taking a person's biochemical individuality into account. Unlike static serum measurements, which only assess the concentration of nutrients present outside of the cell (extracellular) and only provide a glimpse of your health, SpectraCell's Micronutrient test is a long term assessment (4-6 months) that addresses the functional impact(performance) of micronutrients—what really matters.
Why is nutrient status important?
Virtually all metabolic and developmental processes that take place in the body require micronutrients, and strong evidence suggests that subtle vitamin, mineral, and antioxidantdeficiencies can contribute to degenerative processes such as arthritis, cancer, cardiovascular disease and diabetes.
Evaluating micronutrient status can therefore be the first step in identifying metabolic inadequacies while shedding light on the possible underlying causes of complex chronic conditions.
When should a micronutrient test be considered?
Extensive scientific and clinical studies spanning 50 years have repeatedly demonstrated that micronutrient deficiencies can adversely affect health. These deficiencies can set the stage for chronic disease and compromised immune health at any stage in life, particularly if they persist.
VITAMINS
Vitamin A
Vitamin B1
Vitamin B2
Vitamin B3
Vitamin B6
Vitamin B12
Vitamin C
Vitamin D
Vitamin K
Biotin
Folate
Pantothenate
MINERALS
Calcium
Magnesium
Manganese
Zinc
Copper
AMINO ACIDS
Asparagine
Glutamine
Serine
ANTIOXIDANTS
Alpha
Lipoic Acid
Coenzyme Q10
Cysteine
Glutathione
Selenium
Vitamin E
CARBOHYDRATE METABOLISM
Chromium
Fructose Sensitivity
Glucose-Insulin
Metabolism
FATTY ACIDS
Oleic Acid
METABOLITES
Choline
Inositol
Carnitine
SPECTROXTM
for TOTAL ANTIOXIDANT FUNCTION
IMMUNIDEXTM
IMMUNE RESPONSE SCORE
The MNT test was established in 1993 so it has been around 26 years. It is the only white blood cell test that is a true functional test.
It looks at the biochemical individuality of each patient to account for the unique nutrient requirements of each person.
We look at a total of 35 vitamins, minerals amino acids, fatty acids, antioxidants and metabolites.
Only SpectraCell offers a true intracellular lymphocyte analysis of long- term nutrient status.
We are a CLIA certified lab and have a 97% reproducibility rate.
CARDIOVASCULAR TESTING
Lipoprotein Particle Profile (LPP®)Cholesterol has historically been used as the standard indicator for cardiovascular disease, often being classified as "good" (HDL) or "bad" (LDL). Studies have found that it is actually the lipoprotein particles that carry the cholesterol throughout the blood, not the cholesterol within them, that are responsible for key steps in plaque formation and the development of cardiovascular disease. The small, dense, cholesterol-depleted particles impart the highest risk, as does a higher number of these lipoproteins. Standard cholesterol testing does not tell us enough about the particle types—or subgroups—of each of these LDL and HDL families;  therefore, it misses the earliest opportunity to prevent adverse cardiovascular events, when it's easiest to treat.
Why is it important to know lipoprotein numbers?
Cardiovascular risk increases with a higher LDL particle count. With a higher non-HDL count, the probability of particle penetration of the arterial walls rises, regardless of the total amount of cholesterol contained in each particle.
More than 30% of the population has cholesterol-depleted LDL, a condition in which a patient's cholesterol may be "normal" but their lipoprotein particle number, and hence their actual risk, could be much higher than expected. This is especially common in people whose triglycerides are high or HDL is low. In the population with a cholesterol-depleted LDL, there can be up to a 40% error in risk assessment.
50%of heart attack victims have normal cholesterol levels.
TEST COMPONENTS:
*Requires 12 hours of fasting prior to testing
LPP® Plus Profile
Lipoprotein Fractionation
Lipoprotein Particle Numbers
Total Cholesterol
Total LDL Particles
Total HDL Particles
Triglycerides
Lipoprotein (a)
hs-CRP
Homocysteine
Apolipoprotein A-1
Apolipoprotein B
Insulin
LPP® Basic Profile
Lipoprotein Fractionation
Lipoprotein Particle Numbers
Total Cholesterol
Total LDL Particles
Total HDL Particles
Triglycerides
Lipoprotein (a)
All tests include the blood draw fee, shipping and comprehensive lab results with recommendations from SpectraCell to help improve any deficiencies with diet or vitamin supplements.
Our staff at The Fix, with the help from nutritional advisors from Xymogen & Designs for Health, will help you find the right supplements to help where deficient.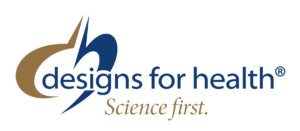 The Fix works with Designs for Health®- high-quality nutritional supplements and Xymogen®-  A family-owned health sciences company, that creates innovative dietary supplements in answer to individual feedback from the bloodwork.
** This material is for informational and educational purposes only, and is not intended to constitute or substitute for the advice of a physician or other healthcare professional. Patients should always seek the advice of a physician or other healthcare professional regarding health conditions.