FREE consultation required before treatment.
You work out. You eat your fruits and veggies. But there's always a few troublesome areas all of us can never quite change. WarmSculpting treatments help bring out the hard work you put in every day, so you can feel your best. The non-invasive, light-based technology targets and destroys treated fat cells. For good.* Just natural-looking and long-lasting results. No surgery. No downtime.
Areas we treat:
Under the Chin

Stomach

Love Handles

Upper Back

Inner & Outer Thighs

Upper Arm
SculpSure body contouring is a breakthrough non-invasive hyperthermic laser technology is designed to safely and effectively eliminate unwanted fat cells. The result is a permanent reduction in stubborn fat without surgery or downtime.
Proven fat reduction without surgery or downtime
Using controlled energy modulation, SculpSure body contouring safely targets adipose tissue with minimal absorption in the dermis, leaving the skin's surface unharmed. Throughout the treatment, Contact Cooling™ is used to help provide the ideal depth of penetration for adipose tissue and cools the skin's surface for added safety and patient comfort.
Each 25 minute WarmSculpting™ treatment destroys fat cells in problem areas without surgery or downtime. WarmSculpting is ideal for people with trouble spots, particularly those that seem resistant to diet and exercise.
FDA-cleared
SculpSure treatments allow you to design a customized treatment for body areas including abdomen, love handles, back and thighs.
SculpSure treatments are also FDA-cleared for non-invasive lipolysis of submental fat including individuals with a BMI up to 49. The unique applicator system provides a comfortable and precise way to treat a double-chin in just 25 minutes**.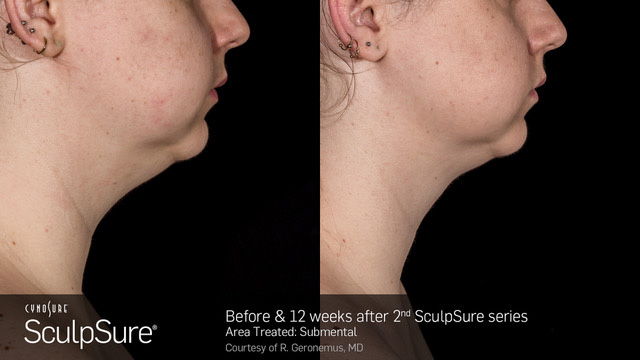 *Single treatment of average reduction in fat volume as measured by MRI; Clinical and Histological Evaluations of a 1060nm Laser Device for Non-Invasive Fat Reduction – John W. Decorato, MD., F A C S. Rafael Sierra, Ph.D., Bo Chen, Ph.D., Westford, MA, 2014.
**The SculpSure device is a non-invasive laser body contouring system, intended to permanently eliminate fat cells through non-invasive lipolysis of the abdomen, love handles (flanks), back, inner and outer thighs, and under the chin (submental). Individual results may vary and are not guaranteed. WarmSculpting treatments are not intended for weight-loss results or for people who are obese. Mild side effects may occur, including temporary tenderness, swelling, or tissue firmness in the treatment area. Please consult with your physician to see if WarmSculpting treatments are right for you.